This shop has been compensated by Collective Bias, Inc. and its advertiser. All opinions are mine alone. #CreateWithHP #CollectiveBias
Back to school time is here, and for us, the only word for it has been CRAZY. My daughter started her junior year this year, which of course is widely regarded as the most important year for college admissions. So there is a lot of pressure on her. Oh, and did I mention that she's taking FIVE Advanced Placement classes, 1 honors class, and an art class??!? On top of that she rides in our local Interscholastic Equestrian team, and participates in several other clubs. Needless to say, she's a very busy and driven girl. Who, as you might expect, has about a MILLION things to keep track of and tons of homework. We live an hour from her school as well, so planning well is an absolutely must for us. If you leave a textbook at school, the homework just doesn't get done. So organization for her is critical – we spend a lot of time talking, planning, and prepping. So I'm really excited to give you some tips to help teens get organized for back to school.
1. Make One List of All Supplies You Need: If your teen is fussy about supplies like mine is, get one list together. Otherwise you will make a million trips to the store and it's super frustrating. If your school is like mine, lists aren't provided and you may need to wait until syllabi are distributed. The wait will be worth it.
2. Create a Fun & Engaging Homework Space: When you spend hours an evening doing homework, you want to be in a space where you are engaged and can focus. At the same time you want it to be a little fun too! That's why I was SO excited for my daughter to try out the new HP AMP Printer! The HP AMP Printer is going to be such a HUGE hit with teens and college students. It's seriously the coolest thing ever – not only is it an AWESOME printer (more on this later), but it's SO MUCH FUN. Wait for it…..it plays music using a built-in Bluetooth speaker and Smart Amp technology! I had no idea that there was a printer that plays music! If you've spend about 15 minutes around any teen you will know that music is HUGE for them – my daughter always has music on when she's working, and now, she can do that through her printer. You can also charge your cell phone, and make and take up to two incoming phone calls at the printer with the built-in microphone! It will even pause the music for you when it's printing or when you get a call, and then starts right back up afterwords. How cool is THAT?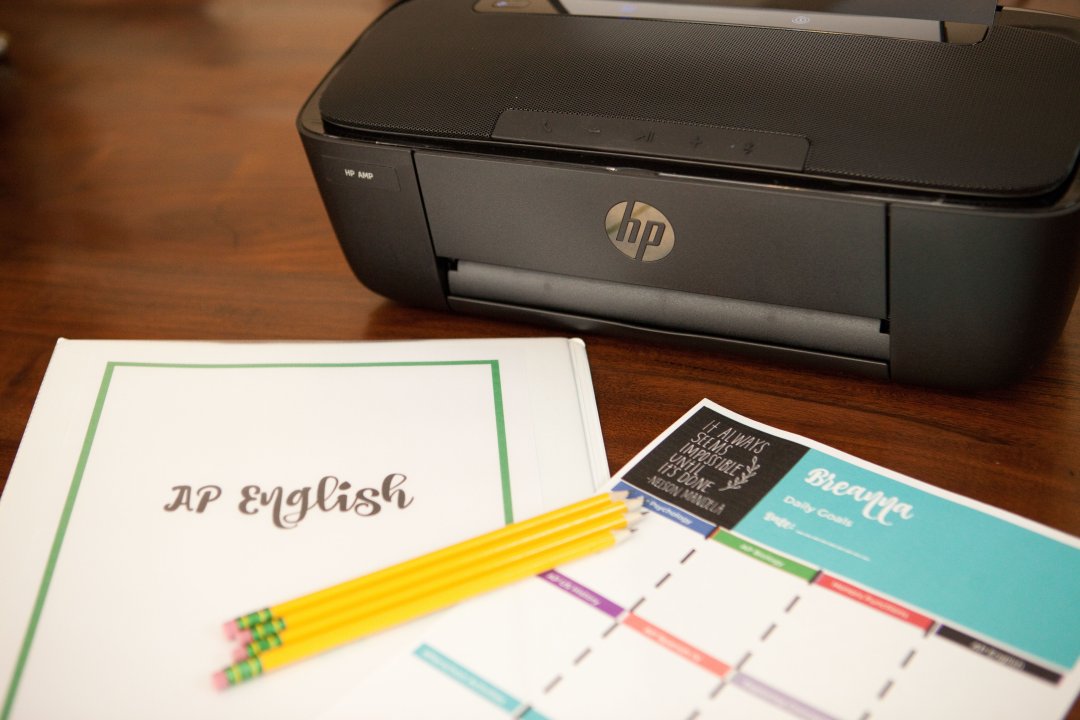 Want to get dancing with your back to school prep? Hover over the photo to shop this one-of-a-kind printer, which you can only buy at Walmart!
3. Make Sure Your Tech is in Working Order: The second week of school is not the time to find out that your phone screen is cracked, your laptop is broken, and your graphic calculator took a swim in the pool over the summer. We suffered a TON last year because my daughter had to do all of her printing at school because my previous printer was unreliable at best. We are SO excited to have an awesome Bluetooth printer that is reliable and affordable! What makes it even better is that my daughter can connect her tablet and smart phone directly to the printer, and print things off of her teachers' websites and her learning app. This is SO convenient – and so is the ability to download the HP Smart mobile app and scan and print objects and papers. You can also monitor and order ink, which is huge for us, because she always forgets to let me know we are running low on ink. This may happen soon, because you can print photos from your phone and camera from social media – after homework is done, of course. My daughter may have printed out half of her Instagram feed for her bulletin board already!
4. Create a Master Calendar of Due Dates: This is an absolute necessity for kids in high school and as they move into college. When you have 7 syllabi with competing deadlines, you MUST calendar everything as soon as you get it. Otherwise you will wait until the night before at some point and find there is too much work to accomplish in one night. Calendering lets you plan ahead, and this is a good skill for adulting in any case! I do it every day myself. There are multiple ways to do it – a wall calendar (this works great for combining family things, after school sports, and assignments), a planner, or, as my daughter and I do, a combination of a planner for her and bullet journals for both of us. This lets her know what I have on my schedule for family activities, doctor's appointments, etc., so she can take that into account when planning out her assignments.
5. Create Binders and Label or Color Code Everything: Schoolwork creates a LOT of paperwork. You have to keep it organized, and good old binders are still the way to go. Print out labels for the front and the sides of all your binders. This makes it easy to grab what you need quickly in between classes and at the end of the day. Which avoid angry parents having to run teens to locked schools. Many, many tears will be spared. Trust me on this one. We printed out all of Breanna's binder labels in a jiffy with the HP Amp printer!
6. Find a way to Set Goals: When you have a challenging course load in high school or college, goal-setting and tracking is really important. Setting smaller, daily or weekly goals is FAR less intimidating than trying to look and deal with everything at once. When you take a semester of college work, or 5 AP classes worth of work and look at it all at once, it can seem impossible. Breaking down hard things into smaller chunks with daily goals is a great way to stay on track and motivated, along with avoiding the dreaded P word = procrastination. We created a Daily Goal sheet for Breanna that she can print out on a daily or weekly basis to set goals for herself.
As you can see, it has blocks for each subject, sports and after school activities, and things she needs to remember. We go over this before we leave home or in the car in the mornings on our commute so she and I are on the same page. Setting these types of goals helps keep her on track!
If you want to check out the super-cool, super affordable HP Amp Printer, you are going to have to head to the printer aisle at Walmart – and you can even check out in-store demos in some stores to check out for yourself how AMAZING the sound is! You'll totally be jamming along with your teen!
Do you have any great tips for teens organizing themselves for back to school? How could the super-fun HP Amp 100 fit into a high-schooler or college student in your life?