This shop has been compensated by Collective Bias, Inc. and its advertiser. All opinions are mine alone. #StockUpWithPost #CerealAnytime #CollectiveBias
Can you believe that it is back to school time already? Where did the summer go?? We are in full back-to-school mode here, which means shelling out a ton of time, not to mention cash, in getting new clothes, school supplies, sports equipment, and books – the list goes on and on!
It's also a crazy time for us as a family as we try to get back into some reasonable routines (and bedtimes) for waking up, having breakfast, and generally getting ready to be on a more rigid schedule again. For us, that means that we are often eating meals, especially breakfast, on the run. Lucky for us, Post Consumer Brands has our favorite breakfast – cereal – in a variety that we all like!
We took a trip to Walmart to stock up on Post cereals to help us get ready for the back to school rush – and Post cereals are AWESOME for this because they are such a great value buy!
It's always fun to find creative, fast breakfasts for us the mornings, which are crazy. Portability is also key, because occasionally breakfast is grabbed as we head out the door on the way to school, which for us is a 30 minute commute. That's why I took some of our favorite Post cereals and created some awesomely fun breakfast cereal pops that are yummy and portable!
We started with one of our favorite cereals – Malt-O-Meal Peanut Butter Cups!
These pops are so easy to make guys, and this is one of my FAVE Post cereals – Peanut Butter Cups brings the killer flavor combo of peanut butter and chocolate, but with no high fructose corn syrup (there isn't any in ANY of the Malt-O-Meal cereals!) and nine essential vitamins and minerals baked in, we can indulge! So for these pops, you need your Malt-O-Meal Peanut Butter Cups, some chocolate milk, some chocolate flavored Greek yogurt, and some extra crunchy peanut butter.
We made three different pops, but you make them all basically the same way. You mix your liquid (some form of milk) with yogurt, and then add flavoring or extras. I used 1 cups of milk to about 2 cups of yogurt. Then, you build your pops. Start with a layer of cereal, and next, in this case, a layer of peanut butter.
Then, fill your popsicle mold almost to the top with your yogurt/milk mixture, tapping gently so that the yogurt will flow all around the cereal and fill the bottom of the mold. Then, add another small layer of cereal and a little more yogurt – and you are ready to freeze! You will want to freeze for at least 4 hours but overnight is better.
These were SO rich and tasty – and check out that smile! I can't remember the last time breakfast brought a smile like that!
Next, we made breakfast pops with Malt-O-Meal Marshmallow Mateys®, which are my favorite because I'm pretty much addicted to the marshmallow treasures that it hides inside – along with 12 essential vitamins and minerals. Here's the cool thing about Malt-O-Meal cereal – they stand behind their products! Check out the bag for details, but if you don't love Malt-O-Meal Marshmallow Mateys® (which you totally will), then it's free!
This pop actually turned out to be my favorite! The yogurt mixture here is 2 cups of plain Greek yogurt, with half a cup of almond milk and half a cup of coconut coffee creamer, and then just a pinch of fresh vanilla mixed in.
Then you layer them the same way – a layer of cereal, then a layer of yogurt, tapping to push it down to the bottom. I put a little more cereal at the top, but then lots of marshmallows so that there would be a tasty treat at the bottom of the popsicle. You can see them layered there and they were GOOD!
The final pop we made was with Cinnamon PEBBLES™* – which is a crispy rice cereal with a punch of cinnamony sweetness. This one definitely made my daughter's morning rock – it was her fave of the bunch!
This pop is assembled just a little differently. The milk/yogurt mixture is 2 cups Honey Vanilla Yogurt, with 1 cup of milk and 1 tablespoon cinnamon. You start the same way by filling the mold with cereal, and then the yogurt mixture. I wanted to add a touch of honey, but you can't use it as an intermediate layer like the peanut butter, because the yogurt will not flow through/around it. So you will want to layer your cereal and yogurt almost all the way to the top, then add a little honey and top it off with a little yogurt – these make a really nice pop that reminds me of a cinnamon roll!
We just LOVED how our breakfast pops came out! They were such a fun (and portable) alternative to eating our cereal in a bowl with milk! We will definitely be using these as a fun, timesaving way to have a great breakfast in the morning.
They were such a fun (and portable) alternative to eating our cereal in a bowl with milk! We will definitely be using these as a fun, timesaving way to have a great breakfast in the morning. And with Malt-O-Meal, you can't find a better deal in my book – they are a great combination of value and flavor!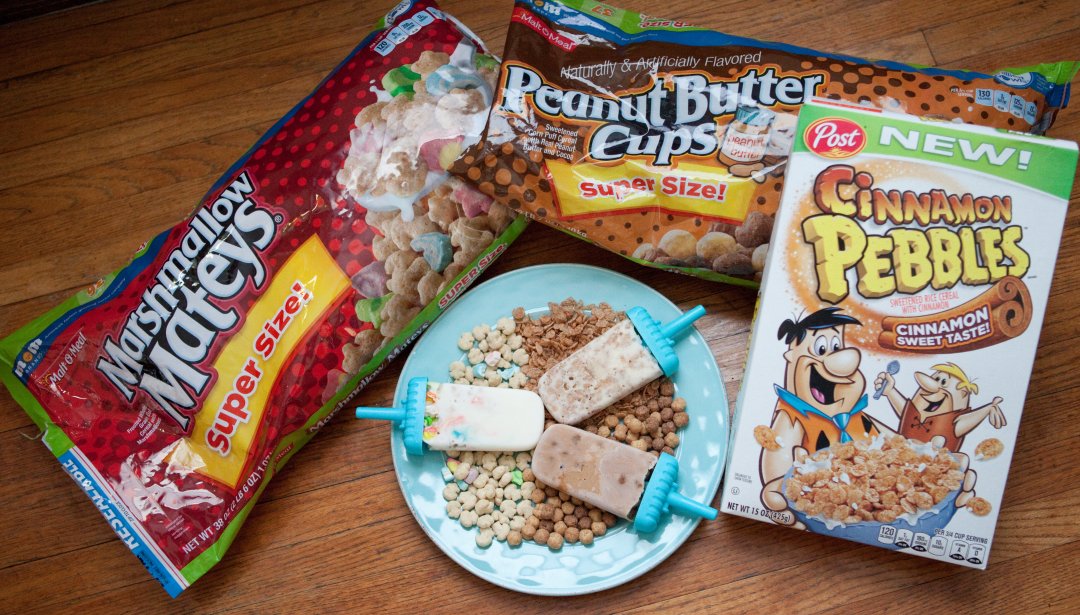 Want to try making some yummy breakfast pops yourself?? Hover over the photo so you can shop for these yummy cereals and get stocked up for back to school! And if we don't have your favorite flavor here – don't worry – there are 33+ varieties so you will find something that you and your family will LOVE! And while we love the big economy packs, Malt-O-Meal cereals come in different sizes so there is something right for every family!
What combination of ingredients and what favorite Post cereal would you put in your ideal breakfast pop? You can also pick up more great ideas on Post Cereal's Pinterest page. See you at the breakfast table!
Earn $1 or $.25 cashback when you purchase some of Post newest additions with these ibotta offers.
Make sure to check out more exciting offers for other Post cereal varieties like Shredded Wheat!
* THE FLINTSTONES and all related characters and elements © & ™ Hanna-Barbera.(s17)