This is a sponsored post written by me on behalf of Char-Broil for IZEA. All opinions are 100% mine.
Just in time for the spring and summer grilling season, Char-Broil has released an all new charcoal grill! Let the gathering and grilling begin as you embrace this all-new Char-Broil Kettleman Grill. For more than half a century Char-Broil has been bringing grills to your backyard, back porch, and tailgate – the latest breakthrough is Char-Broil's new Kettleman 22.5" Charcoal Grill (MSRP $129), an updated and vastly improved kettle-style grill that is more efficient and easier to use than ever before.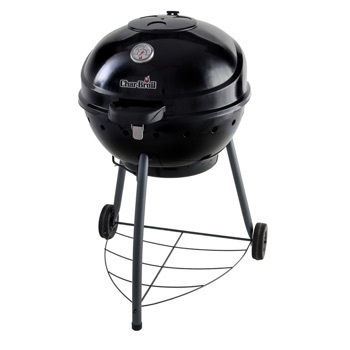 With the arrival of warmer weather, it's time to gather the family and call the neighbors over for some much deserved summertime fun! With Mother's Day, Memorial Day Weekend, Graduation Season, and Father's Day all coming at us – outdoor entertaining is going to be the order of the day during the months ahead. 
The Kettleman 22.5" Charcoal Grill by Char-Broil will be a perfect place to gather your group for whichever celebrations you are marking under the warm sunshine. Does anything smell more like a celebration than charcoal and grilled meats and veggies? I know my kids always gather around when food is ready to come off the grill!
My favorite memories of childhood revolve around family and friends descending on our backyard. As the kids played, the grown-ups did whatever it was that grown-ups did, and the aroma of our Char-Broil Charcoal Grill filled the air! In fact, the announcement that the burgers and hot dogs were ready was about the only thing that could end a game without complaint. I can't wait to help our kids and their friends create even more memories this spring and summer! 
The Char-Broil Kettleman Grill is easy to use and easy to clean – plus, it gives you more control than ever over temperature, flare-ups, and clean up! This is an all-new and innovative design from Char-Broil, a company who knows charcoal grills better than anyone else in the business. It was a long winter – it's time to fire up the grill – and whatever you choose to grill, make sure you put it on the Kettleman 22.5" Charcoal Grill.
To create your own special memories with friends and family, get to a Lowe's store near you, or order one online at www.charbroil.com, and you can click here to learn more about the Kettleman grill!