This post brought to you by White Cloud. All opinions are 100% mine.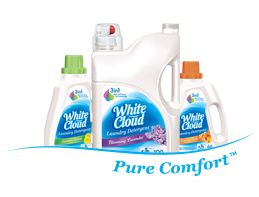 Life is short and I spend way too much time worrying about how I am going to get stains out of my laundry! Well I did worry about that until I tried White Cloud Laundry Detergent. Last night at dinner there was a mini explosion on my stove which caused a spaghetti sauce volcanic eruption all over my kitchen. I didn't want to spend my evening scrubbing baked on spaghetti sauce from my cabinets and counter tops so I grabbed the nearest hand towel and wiped it down right away. That probably wasn't the best idea because it dried onto my towel and seemed as though it was never going to come off.
I decided this would be the perfect time to put my new White CloudLaundry Detergent to the test.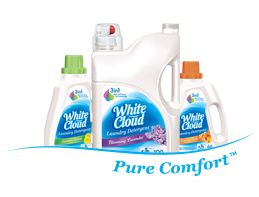 I threw it in the laundry with a basket of some other clothes that could use a little stain fighting power. My most comfortable t-shirt is what I wear for the dirtiest jobs so it gets it's share of stains that I would love to see disappear. These stains have been accumulated all year long during lawn mowing, cleaning house, and while fishing. So this will be the ultimate test to see what White Cloud Laundry Detergent can really do.

The first thing I noticed was the Summer Breeze scent of the detergent. I love how fresh and clean my laundry room smelled while using it. After my laundry was done I noticed it had absorbed the Summer Breeze scent and made all of my clothes smell great! I love the smell but even better is the stain fighting power! I couldn't believe when I had seen all of the spaghetti stains were
gone!


White Cloud removes stains better than I hoped for thanks to the 3 in 1 Micro Clean technology. Join in on the Dare to Compare campaign and try White Cloud Laundry Detergent for yourself. You will be amazed at your results! Head over to their Like White Cloud on Facebook and receive a $2.00 off coupon to try out the stain fighting power for yourself.
Follow White Cloud on Pinterest
You can get your coupon code HERE! coupon and once you have that, find the closest and easiest store (like Walmart!) to RUN to and BUY Store Locator
Disclaimer: Limit one coupon per purchase on product specified. No cash back if coupon value is higher than purchase price. Void if reproduced, transferred, used to purchase products for resale or where prohibited/regulated by law. Not valid on trial sizes. Consumer pays sales tax. Redeemable at participating retail stores. Valid only in the U.S.