This post brought to you by Atlantic Luggage. All opinions are 100% mine.
I don't know about you, but trying to find luggage that works for all the different members of our family isn't easy.  Bottom line – generally the only one dealing with it is me.  Got the kids to pack their suitcases for the most part (oh yes, I do check before they are shut…)  but the movement of the pieces is left to me to deal with.  So I want nice luggage, that works for us and isn't going to kill me to haul it to and from wherever we are heading!
The Compass Unite Debut Style Luggage is the most innovative set yet to be released from Atlantic Luggage. The unique Lind2Go styled System offers you flexibility as well as mobility.  It's cool because you can easily attach two of the Spinners back to back. This allows travelers on the go to effortlessly move two pieces of luggage with just one hand. Not only is this set versatile, it is also very affordable. It is the perfect collection because it is lightweight and it is just right for a family who is on the move. And this family is always on the move!
This collection is the next generation in luggage. It is perfect for families because it is durable and lightweight and it offers easy mobility. This is very helful for parents with small children.  I liked the contour grip which makes it easier for me to control and doesn't cause me any strain while I keep an eye on the kids moving through train stations, hotel lobbies and airports.
The Compass Unite Debut Style Luggage is a collection of five varying sized pieces of the following:
• 21" Expandable Spinner Upright Suitor
• 25" Expandable Spinner Upright Suitor
• 29" Expandable Spinner Upright Suitor
• Rolling Carry-on Tote
• Carry-on Shoulder Tote
This set is designed to offer more features, better performance and to roll more smoothly – all for a price that is very family friendly. And when you add in the 10-year limited warranty, you have the best of everything! It is available in colors that are bright and vibrant with a shell that is textured to resist scratching. Got a bunch of people traveling together?  Assign each one a color and there's no issues with whose luggage belongs where.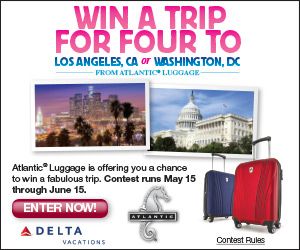 Love how easy and flexible the pieces are for packing!  Makes it a breeze for any kind of trip whether it's summer, winter, with kids or the dreamed about without kids!  It is everything all rolled in to one neat package: Style, Functionality, Value, and Quality.  This set has the feel and the look of luggage that is top of the line, without the over the top price. This set is not only practical, it is fashionable too.  What can be better?  Hmmmmm, how about this:
Check out this news! WIN A FAMILY TRIP FOR 4 CONTEST:
Atlantic®Luggage would like you to promote their "Win a family trip for 4" Sweepstakes! One lucky person could win a family trip for 4 to the destination of their choosing, either Los Angeles, CA or Washington, DC!!! Trip includes airfare, hotel, $300 activity allowance, and 4-pieces of Atlantic luggage.
Ok, ready to enter? In order to enter for your chance to win head over to http://www.atlanticluggage.com/spring-sweepstakes-2014/
When you win – Which destination will you choose?  Washington D.C. or Los Angeles?