This post brought to you by Walmart. All opinions are 100% mine.
Boys are different than girls! Yup, I said it here first. Well, actually, no – I didn't and you probably already knew this factoid, but I'm amazed at the differences between boy babies and girl babies. And one of those areas is 'poops'! Not trying to be gross but my son's diapers are far messier and more problematic than any girl baby diaper that I've ever changed.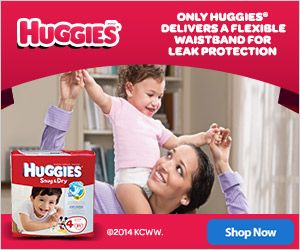 At first I tried to "save money" with my choices for all those items that come with and are required for a new baby. So, color me stupid but it cost me – and not just in cash. Sleep, time and energy were also the byproduct of trying to save a little money. For example, if the diaper leaks and you have to change bedding and the baby and do an extra load of laundry, I think the $.69 or so that I saved was quickly eaten up in what I then had to do to clean up and take care of the situation.
And babies, at least my babies, do not handle messy diapers and bedding very well. They are quite LOUD in letting me know there's an issue. Using Huggies® Snug and Dry Diapers helps in providing long lasting protection. It's the "surefit" design which helps keep the diapers in place even when they are moving, rolling and turning over. My son got his father's legs and these diapers are great in that they fit skinny baby legs and not so skinny baby legs like his. (Gotta be careful in case he reads this post at some point in the future…..)
Oh, and about those messy ones I mentioned above! The no-name wipes won't cut it. Half a tub will be gone before you even make a dent in the mess. Huggies® has a variety of wipes to choose from that will help with those tough baby messes but are designed to be gentle on baby skin. You need a wipe that can get it cleaned up in one swipe if possible. The bigger babies get, the more they twist and turn on you as you try to change the diaper so you don't have time to keep reaching for one wipe after another.
Once I made the switch to the right products for my son, it was amazing how much better our life went! I got more sleep, he got more sleep and that meant more fun time available for both of us. So if you need diapers and wipes, check out Huggies® products at Walmart with their everyday low prices. As they say, Huggies® and Walmart, helping moms take care of their little ones and their everyday messes.