This post brought to you by GNC. All opinions are 100% mine.
Maybe it's the fact that I'm getting older, but a lot of my friends and family talk about goals and what they want to get done in the years ahead.  Included in that is taking care of their health because the body isn't quite like it was a few years ago!
I know that personally I am paying more attention to items on my "Bucket List" and pushing the limits a bit more in what I do and try.  A company that also does that is GNC.  GNC started as the "General Nutrition Center" about 80 years ago in Pittsburgh, PA.  I didn't know that little factoid about the company either until recently!  The company and the products were geared towards helping clients live well and perform at their best.  The company's goal then and now is to help you beat average everyday.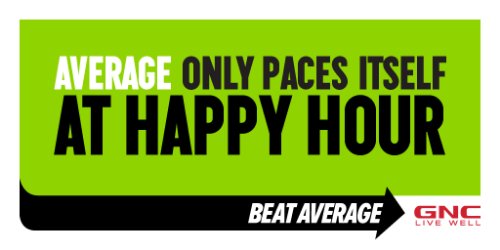 In fact, in check out their website and Facebook pages, I can see they've made it their mantra!  If some companies said that I'd be like, "Yea, you're just trying to get new customers!"  But with GNC it's different.  I've used their products and shopped with them for a couple of decades now.  This fits with everything about this company!
Beat Average is a call for each and every one of us to try and reach above and beyond the ho-hum every day groove that we are usually in.   I don't know about you but I can use a push now and then to push myself to feel better and work towards more of my goals than I have.   And if I can get help to beat average from a company that I know and trust, well, count me in!  After all, average is for the other guys!  ;)
So think about this – what would you like to challenge yourself to do?  How could joining Team GNC and #BeatAverage help you?
To learn more and share in this adventure to Beat Average check out: #TeamGNC on Twitter.  GNC Live Well on Facebook (All the info on this is there)