I first made this cake for my husbands work and I had never tasted it, this week I made it and guess what? I actually got to taste it! It is so delicious! It is nowhere near "diet food" but it sure is worth breaking that diet for.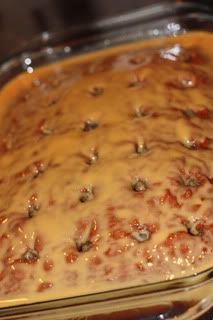 Ingredients
Chocolate cake (You can either make your own recipe or use a boxed one) prepared according to directions
14oz of caramel ice cream topping (a good brand like Hershey's)
15oz can of sweetened condensed milk
8oz of whipped cream
1-2 crushed toffee candy bars
Instructions
Take your prepared chocolate cake and with the end of a wooden spoon poke holes all over it; do NOT poke all the way to the bottom of the pan (all of your topping will run to the bottom)
Open your caramel topping and your sweetened condensed milk and mix them in a bowl
Pour the caramel mixture over the cake and allow it to sink in
Let the cake come to room temperature and then put it in the fridge for 30-45 minutes
Remove the cake from the fridge and "frost" it using the whipped cream
Sprinkle the toffee bars on top
If you enjoyed this post, please pint it to Pinterest, stumble it or share it on Twitter and Facebook!
Come and visit me for more great recipes www.mooseandtater.com