I was surfing around on the web one day trying to find something to do with Abby. It was raining and she had her nose to the window and I just felt so sorry for her. She is just like me in so many ways, preferring to be outdoors taking pictures is top on that list. I came across an edible DIY Play Dough recipe. Sadly there were so many posted I don't know who to give credit to for the below recipe. I sure would love to thank them if I could ever find out who the original inventor was/is.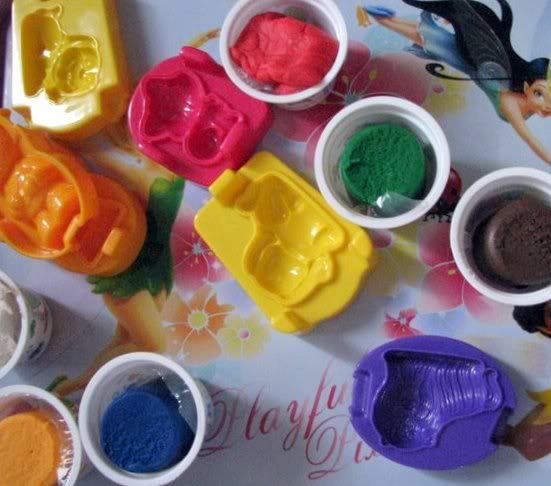 Things You'll Need
Large Mixing Bowl
Mixer
Measuring Cups
Spoon
3 1/2 cups peanut butter
4 cups confectioners' sugar
3 1/2 cups honey
4 cups powdered milk
How to Make DIY Play Dough
Gather all ingredients, mixer and mixing bowl.
Cream together peanut butter and confectioners' sugar,
Beat in Honey.
Fold in milk powder.
Divide into portions.
Give to children for the little hands to enjoy! Have fun!
We still use our fair share of craft play-dough kits. They can be messy so I do one of two things. I throw an old sheet down and put the kits on a TV tray (plastic) or I use a baby crib sheet to cover our small table. It fits perfectly, I tuck the elastic around the ends, and all I have to do is shake it out and wash it when we are through playing.
It doesn't matter if the old sheet or old baby crib sheet gets stained but if by chance some gets on the carpet I mix vinegar 2/3 cups, 1 egg, and 3/4 cup water. We shake it, pour it, and towel pat it up.
Accidents do happen and after 3 kids and 5 grandkids, I'm prepared.
Have you ever tried DIY Play Dough?